Animal Hospital of Rowlett's New Cat Hospital is the Cat's Meow
[Click image to enlarge]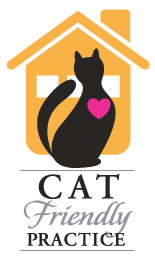 As a result of our commitment to excellent care of cats and their owners, Animal Hospital of Rowlett is officially accredited by the American Association of Feline Practitioners as a Cat Friendly Practice at the Gold Level.
Cats are Not Small Dogs
Cats are not small dogs and should not be treated or handled as such. There are many medical and behavioral situations specific to cats, and you should feel very comfortable knowing that your veterinarian has thorough knowledge of these specific feline needs. Dr. Clary is a Diplomate of the American Board of Veterinary Practitioners, certified speciality in feline and canine medicine, and Dr. Downes and Dr. Carter take a special interest to see that our feline patients receive the very best medical care. In addition, our Staff at Animal Hospital of Rowlett is specifically trained to handle the most sensitive feline patients with your cat's ease and comfort in mind. We are certified by the American Association of Feline Practitioners as a Cat Friendly Practice and we are the only gold level cat friendly practice within 20+ miles of our clinic.

A Comfortable, Stress-free Environment... Just for Cats
Our compassion, love, and dedication to cats has led us to devote a portion of our hospital to the special needs of felines. When you bring your cat to Animal Hospital of Rowlett's new Cat Hospital, you and your furry friend will be treated to a quiet, comfortable, stress-free environment… away from those noisy ol' dogs. Just what your cat wants for a pleasant trip to the vet.
---
A Cats-only Entrance and Cat Friendly Waiting Area
When you first arrive, you'll notice we have a special cats-only entrance at the front of the hospital which leads to a cat-friendly waiting area free of noise, bright lights, movement, and the typical veterinary office hustle and bustle that can so often frighten cats.
---
Veterinary Care Tailored to a Cat's Specific Needs
From there, you'll be whisk(er)ed - see what we did there? - to our specially-appointed cat treatment area where your friend will receive state-of-the-art veterinary care that is specifically tailored to a cat's particular needs. We understand how important your cat is to your family, so making your feline companion comfortable during those visits to the vet just seemed natural. Read why we don't "scruff" cats and why you shouldn't either.
Call us now at 972-412-0101 to see why all the cool cats are booking their appointments at Animal Hospital of Rowlett's new Cat Hospital.
---
We're centrally located in Rowlett, Texas, convenient to Rockwall, Garland, Mesquite, and Forney Texas
Our Cat Hospital is located at:
9501 Lakeview Parkway
Rowlett, Texas
972-412-0101
(Across the street from LakePointe Hospital and across the lake from Rockwall, TX)
Go here if you're looking for information about our Cat Grooming Services
---
Schedule Your Cat's Appointment Online
Call 972-421-0101 or click here to
book your cat's next appointment for Animal Hospital of Rowlett Cat Hospital
---
Custom Cat Trees You Can Build for Your Cat
Our Dr. Carter recently constucted a custom-made cat tree for her cat from materials she purchased at hardware stores and IKEA. Below are photos of her work. (click to enlarge):
Below is another example of a custom-made cat tree, this one built by one of our clients for her cat, Opie. See him?
---
Our Favorite Cat Products
Many feline behavioral problems can be traced to boredom or lack of space for the feline inhabitants of the home. Despite what we mere mortal humans consider a spacious home, the natural territorial size that a house cat considers "my own realm" often exceeds our home's size.
Providing your cat plenty of space, mental distractions, and physical activities will ensure he stays busy and feels safe and comfortable in your home.
Following is a link to many of our favorite cat products that you can buy online, or even make yourself. Have fun watching your furry friend become master his universe!
Be Your Cat's Superhero
Also, download our Be Your Cat's Superhero brochure for more creative ways to enrich your cat's environment.
---