Dog Day Care - Rowlett
We are so Doggone Excited to Announce our new Rowlett Doggie Playcare program!
Does your dog give you big puppy-dog eyes every time you leave the house? Do you feel guilty leaving your precious pup alone for hours at a time? Do you have to kennel your canine companion? Don't you wish you could come home to a calm puppy after a long day at work? If you answered yes to any of these questions, Rowlett Doggie Playcare may be the answer for you!
Supervised Play with Enrichment Activities
Playcare will consist of supervised play times with both structured play and social time. We have toys, a swimming pool, agility tires, and more! We will have dedicated splash days, birthday celebrations, and doggie ice cream when it's hot!
Follow Your Dog's Adventure Online

All Doggie Playcare staff has been trained one on one by our certified trainer and groups will be limited to dogs who play similarly. You can follow your dogs' adventures on our clinic Instagram @ahrdvm.
Doggy Playcare is offered at a discount to pets who are guests of our Pet Hotel. Indoor rest time will be available during hot months so your pet can cool off in the air conditioning between play sessions.
A Team You Can Trust

Our certified dog trainer, The Dog Trainer Guy - Wayne Dooley will assess each pet to ensure they are a good fit for our program. In an effort to ensure all the dogs love daycare as much as possible, dogs will be grouped based on their activity level and play style, rather than by size.
We will offer outdoor Playcarecare Monday - Friday, rain or shine. All dogs must be spayed/neutered, current on required vaccines/parasite prevention, and complete a behavior analysis with our trainer in order to qualify.
Your Pet's Home Away From Home
Our daycare yard is artificial turf, so you don't have to worry about taking home a muddy mess! Baths and grooming are available for an additional fee. Contact us today to get started!
Enroll Your Dog Now
Step One: Complete our Doggie Day Care Entry Questionnaire. Send your dogs' name(s) and your contact information to This email address is being protected from spambots. You need JavaScript enabled to view it. with the name of the veterinary provider your pet uses for all wellness items. Each dog will need a separate personality form.
Step Two: Once we have received a full medical history for your dog(s) we will contact you to set up an assessment with our Dog Trainer Wayne Dooley. Assessments are scheduled for every Wednesday. The drop off time is 7 am to 9 am and the assessment fee is $25 and is non-refundable.
Step Three: Once your dog has passed its entry assessment, he/she will receive an assessment completion certificate and there will be an appointment at pick up for contract signing with a Doggie Day Care administrator. Please plan for a 20-30 appointment for this review and signing. After contract signing, you will receive a "Fast Pass" for future doggie day care play days.
Interested parties can complete the Doggie Day Care Personality Questionnaire to begin the process. Alternatively, send an email to: This email address is being protected from spambots. You need JavaScript enabled to view it. or call 972-412-0101 to begin initial paperwork.
Doggie Day Care will not be available during peak boarding times and holidays. View the Doggie Day Care black out dates for 2019.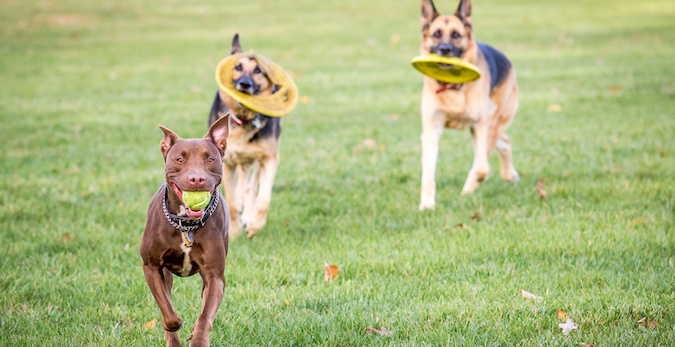 ---
Some of Our Guests

Watch many of our Doggie Day Care guests enjoying a little supervised playtime at Rowlett/Rockwall Dog Day Care in the videos below. We can tell these dogs are comfortable, wanting to play, and having fun because their ears are up, they are wagging their tails and barking while bowing in the play stance.
We always watch for subtle signs that many may not even know are signs of anxiety, fear, or aggression, such as ears pulled back, yawning, licking of lips, and/or cowering.
Schedule your Rowlett/Rockwall/Garland Doggie Day Care Appointment now. Call 972-412-0101 or schedule it online below:
If your pet is interested in an overnight or extended stay in our Pet Hotel, visit our Pet Hotel page.