Rowlett Dog Boarding, Cat Boarding and Kennel Services
When you leave your pet at a boarding facility, do you think about:
How loud it is for your pet in a big metal building during a thunderstorm?
How loud it gets in the facility that allows hundreds of dogs to board at a time
How your pet might feel when they are bullied by other dogs during playtime?
What happens if your pet gets sick and there is no veterinarian on staff at the facility?
If your pet really wants a huge cage to run around in or if that would be scary to them?
We've thought of everything.
When you board your pet with Animal Hospital of Rowlett, you can be assured your friend will be treated like royalty in a medical environment staffed by veterinarians and nurses - not just kennel kids. Some of the features of our Pet Hotel includes (that most large kennel boarding facilities don't):
Nice, quiet insulated facility to minimize noise and stress
All dogs are walked individually two times a day in a large fenced exercise area
Plush comfortable Kuranda beds are available for a warm, cozy night's sleep
Attentive staff ensures compartments and runs are clean and comfortable for your pet
Fully air conditioned and heated kennels
More than 34 years pet hotel experience
We keep close track of your pet during its stay. Our staff carefully monitors elimination habits, appetite and overall well-being seven days a week. And of course, we provide plenty of attention on a daily basis.
All pets are fed premium Royal Canin diets. If your pet requires special dietary needs, please inform our receptionist at the time of check-in.
All pets entering the hospital must be current on vaccinations and free of fleas and ticks. All dogs must have a negative stool check for intestinal parasites within the last 12 months
Follow your pet's visit on Instagram
Rooms fill up Fast, So Make Your Reservations Now
Dog and Cat Boarding and Dog Day Care Reservations can be made on-line, by e-mail or by phone.
You may now make your pet boarding reservations online for any of your pet's visits or just call us at 972-412-0101.
Express Check-in
To speed up the check-in process, download and complete our boarding contract online at
www.ahrdvm.com.
Pet Hotel Check-in & Check-out Hours
Monday – Friday: 7am to 6:30pm
Saturday: 8am to 12pm
Sunday: 5pm to 5:30pm (Pick-up only with pass provided at check-in.)
Holiday Weekends
To allow our staff to enjoy time with their family, there are no Sunday pick-ups on: Christmas Day; New Years Day; Labor Day; Independence Day; Memorial Day; and Thanksgiving Day weekends.
---
Animal Hospital of Rowlett Dog Kennel and Cat Boarding Packages

Why We Require Pet Vaccinations for all Pet Hotel Guests
At Animal Hospital of Rowlett we require each of our hotel guests to be current on all vaccinations. This is for your comfort in knowing that your pet will not be exposed to any harmful diseases.
Basic Cage (less than 40 pounds) Photos
Dogs less than 40 pounds are eligible to stay in the Basic Cage. There are 14 basic cages, each including a cuddly blanket, hypoallergenic bedding and no spill food/water bowls. Your pet will be calmed by the Classical music played throughout the hotel. All basic cages include three private potty breaks in our spacious fenced-in yard shaded by a majestic oak tree. A staff member is in the yard at all times for safety reasons and to record "potty habits." Toys and playtime are included during each potty break. To give our guests a more private feel, the cages are designed so they don't face each other, ensuring they are not disturbed by a neighbor. A daily treat from our "canine treatery" is included with a stay in the basic cage. Additional playtimes are available for a nominal fee.
Each basic cage includes a cuddly blanket, hypoallergenic bedding and no spill food/water bowls. Your pet will be calmed by the Classical music played throughout the hotel. -
Basic Run Photos
Any size dog is welcome to be pampered in our Basic Run, although active dogs seem to be the most comfortable here. They have plenty of room to move about in this 4x8 room with ample space for a pet-cot, bedding and food/water bowls. All dogs in the basic run are given a tennis ball to play with during their stay and are let outside for three private potty breaks in our spacious fenced-in yard beneath a stately oak tree. A staff member is in the yard at all times for safety reasons and to record "potty habits". Additional playtimes and Kong snacks are available for a nominal fee. A daily treat from our "canine treatery" is included. Multiple pets from the same family can stay together in these runs for a discounted rate.
Tranquility Suite Photos
Dogs less than 20 pounds, who tend to be more timid in new environments or prefer to be in a quiet room, make the perfect guest for our Tranquility Suites. The guests in the Tranquility Suites receive soft ocean sounds, a view of a field of blue bonnets, an indoor grass-covered potty area, soft bedding, and plush toys to comfort them during their stay. We provide daily anxiety medication, "thunder-shirts" for stormy nights, and pheromone diffusers for a calming effect. Cuddle time with the staff is included and "doggie massages" will be given to those who are tense or nervous while away from home. To preserve the serene ambiance of the Tranquility Room, only 9 guests are allowed. Since this room is reserved for our shy guests, those who become vocal will be moved to Basic Cages.
Luxury Suite Photos
Any size dog is welcome to stay in our Luxury Suite. Aside from plush mattresses, comforters and pillows, these suites provide the largest space for your pet to really stretch out. The suites are decorated with digital picture frames (yes, you can bring a USB of family photos), a regular photo frame, lamp shades, rugs, and food bowls. The soaring ceilings lend an open, airy feel to the room so your pet won't feel "trapped" or "caged in." Your pet will be in the lap of luxury, as these suites are all inclusive, with playtimes, snacks from the "canine treatery", potty time in the yard, and daily brushing and pampering. Classical music is softly played in their runs and lights are turned off for nap time and sleep time at night. Multiple pets from the same family can stay together in these suites for a discounted fee
Click to enlarge
Kitty Kondos Photos
Animal Hospital of Rowlett provides a separate area for boarding our feline friends. One to two cats are eligible to stay in our luxurious feline suite and cat families with more than two cats are required to stay in our spacious double, inter-connected suites. Your feline friends can choose either the ocean view (250-gallon fresh-water aquarium) or bird view (outdoor bird feeders) suites, each including a hiding basket, fresh blankets, food/water bowls, and a litter box

Follow your kitty's visit on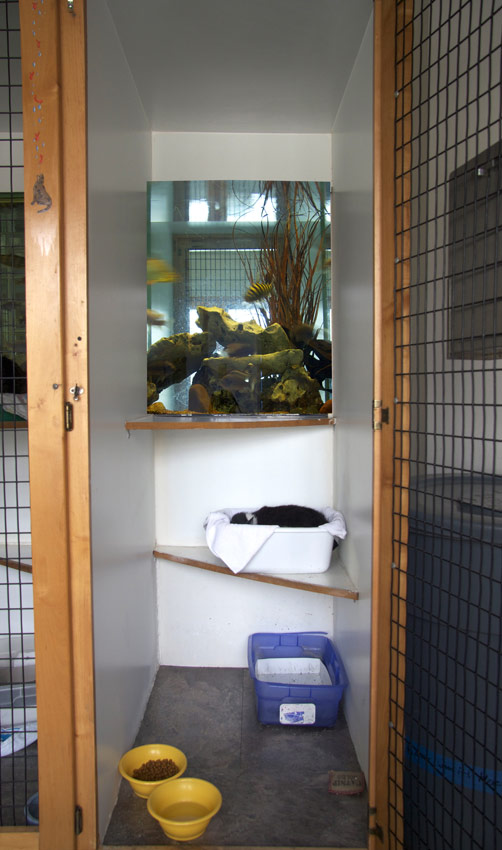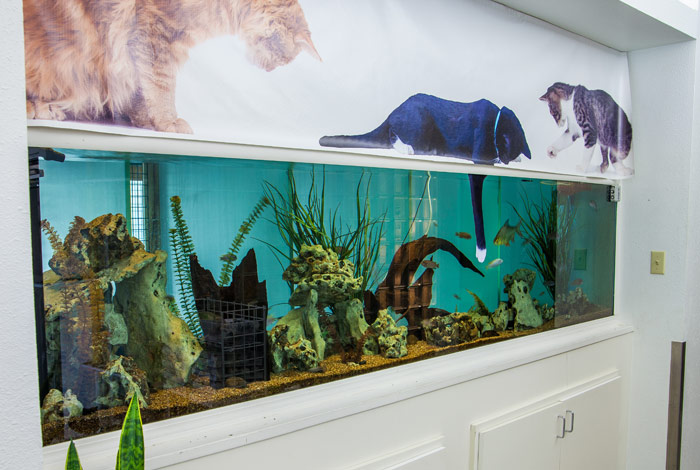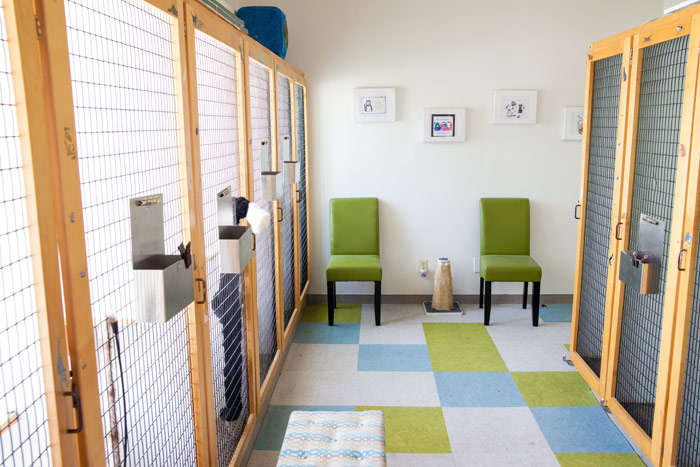 Aromatherapy Wall
During your baby's stay with us, his/her luggage (belongings) will hang on the Aromatherapy wall for easy staff access to favorite toys, preferred food, comfy blankets, or any other special reminders of home.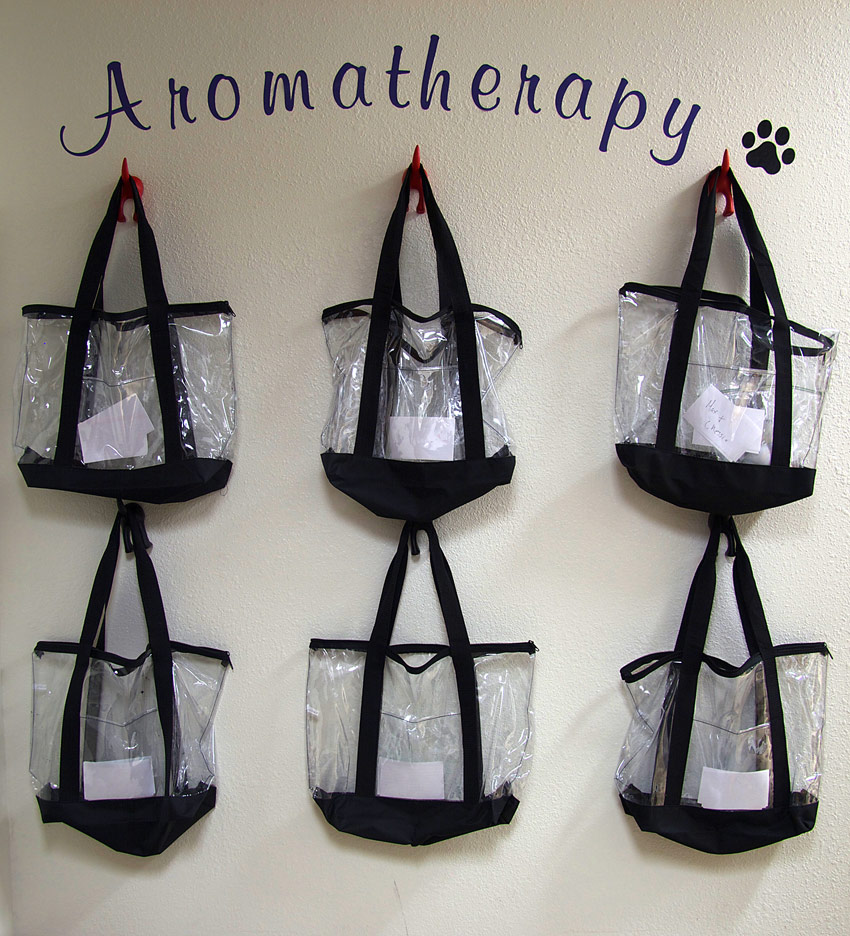 Outdoor Exercise Area
Many of our canine friends go "dog-gone" crazy for extra daily walks in our spacious, fenced-in yard beneath a stately oak tree. And unlike many of those large metal kennel facilities that board literally hundreds of dogs, at our Pet Hotel, your dog will have the entire run to himself as we exercise all our guests one-dog-at-a-time, unless your have multiple pets staying at and request them to be exercised at the same time.
Our canine guests really dig these extras:
Extra Playtime: In addition to 3 walks/playtimes per day, you can choose an additional playtime in a private area for your pet.
Massage Time: We would love to spend some extra time petting and massaging your pet. We even have a dedicated chair in the tranquility room!
Tuck in and Bedtime Story: Our final walk in the evening is 6:30pm. If you wish for your pet to have a late night walk, we would love to come give them a special walk and read them a story at 10:00pm.
Spa Bath (price based on weight-ask for details) Our spa bath is the perfect ending to a relaxing vacation at our Pet Hotel. Let us give your pet the pampering they deserve.
Groom (by appointment only-you must fill out a separate grooming instruction form (price based on weight-ask for details) Our Groomer would love to give your dog a bath, blowdry, haircut, nail trim, anal gland expression, ear cleaning, sanitary shave, shed-less treatment, or anything else you may desire!
Manicure/Pedicure: Everybody loves a mani/pedi! We can trim the nails, file (dremel) the nails, and even paint the nails a color of your choice!
Medication (you must fill out a seperate medication instruction form at drop off) Our Pet Hotel staff is trained to administer routine oral medications (thyroid medications, vitamins, allergy pills, etc) daily, as needed.
Nurse Medication (you must speak to a nurse at drop off) Insulin injections or narcotics (ie, Phenobarbital, Valium, etc) must be administered by our Nursing Staff.
end faq

Read what some of our guests are saying about the Animal Hospital of Rowlett's Pet Hotel in our Client Testimonial section.
Animal Boarding Requirements: For your pet's protection, we require proof of annual physical examination, intestinal parasite exam, current vaccinations from a licensed veterinarian and flea prevention.
Our Pet Hotel guests have a lot of fun: