We are a full service small animal veterinary hospital in Rowlett Texas (Rockwall County), a suburb of the Dallas/Fort Worth Metroplex. We are located at in Rowlett at 9501 Lakeview Parkway (formerly Highway 66) just east of Dalrock Road across from Lake Point Medical Center. Our veterinarians proudly provide veterinary medical services to pets residing in the Rowlett, Garland, Rockwall, Heath, East Dallas, Mesquite, Forney, Royse City and surrounding communities. We also provide pet grooming and dog and cat boarding in our pet hotel.
We Are Open on Saturdays and Extended Hours on Weekdays
Mon, Tue & Thur:
7:00 AM - 8:00 PM

Wed & Fri:
7:00 AM - 6:30 PM

Saturday:
8:00 AM - 2:00 PM
New! Extended Saturday hours
Our Mission:
"This hospital is dedicated to our patients, whose loving, loyal and engaging personalities enrich our lives, fill our hearts and constantly inspire us to provide the best veterinary medical care possible."
So that we may better serve our clients, we now have a satellite facility.
The Animal Hospital of Heath
209 Laurence Road
Heath, Texas 75032
Across from Amy Parks Elementary
Visit the site

By combining the expertise and compassion of the staff at both the Heath and Rowlett hospitals, we can offer unparalleled care for your pet family member whether you live in the cities of Rowlett, Rockwall, Heath, Garland, Mesquite, Forney, Fate, or surrounding communities.
---


Cats are Not Small Dogs
Cats are not small dogs and should not be treated or handled as such. There are many medical and behavioral situations specific to cats, and you should feel very comfortable knowing that your veterinarian has thorough knowledge of these specific feline needs. Dr. Clary is a Diplomate of the American Board of Veterinary Practitioners, certified speciality in feline and canine medicine, and Dr. Downes and Dr. Carter take a special interest to see that our feline patients receive the very best medical care. In addition, our Staff at Animal Hospital of Rowlett is specifically trained to handle the most sensitive feline patients with your cat's ease and comfort in mind.
A Comfortable, Stress-free Environment... Just for Cats
Our compassion, love, and dedication to cats has led us to devote a portion of our hospital to the special needs of felines. When you bring your cat to Animal Hospital of Rowlett's new Cat Hospital, you and your furry friend will be treated to a quiet, comfortable, stress-free environment… away from those noisy ol' dogs. Just what your cat wants for a pleasant trip to the vet.
---
Does Your Cat Have the Stinkiest Tuna Breath Ever?
Here's Your Chance to Prove it... and Fix it!

Announcing our Worst Tuna Breath Ever Contest which gives your cat the opportunity to receive up to $1200 in free dental health services including a complete oral health assessment, full mouth X-rays, probing, charting, ultrasonic cleaning, polishing, fluoride treatment AND any recommended extractions, antibiotics and pain medications.
While simple dental cleanings don't typically cost this much, a kitty with several bad teeth needing extractions can easily get very expensive. Regardless of what it costs, getting your cat's teeth right will be all on us!
Click below to enter the Worst Cat Tuna Breath Ever Contest.
---
Animal Hospital of Rowlett now offers the ability to schedule routine medical appointments, dog and cat boarding and kennel reservations, and grooming appointments on-line. Whether you live in the Rowlett, Heath, Rockwall, Mesquite, Fate, Forney, Garland, or Dallas communities, just make a selection from the options below, then complete the form and click submit. Our client service staff will be notified of your request and contact you with a confirmation of your appointment.
Of course you can also make an appointment via telephone by calling us at (972) 412-0101. Our friendly client service staff will be happy to schedule an appointment for your routine procedure.
Schedule a routine medical appointment.
Schedule a boarding appointment in our comfy Pet Hotel.
Schedule a grooming appointment.
---
To show how much we at Animal Hospital of Rowlett value loyalty, we introduce our Care-to-Share Client Referral Program.
Tell your friends about the exceptional care you receive at Animal Hospital of Rowlett, both you and your friend will receive $10 credit for services when they bring in this card as a new client.
Just download our Client Loyalty Card and the bearer will be entitled to $10 off veterinary services excluding boarding, grooming, and retail products.
---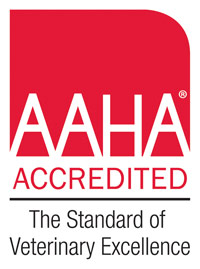 To become an AAHA hospital member, candidates must complete a 39-page self-assessment reviewing the hospital's services and facilities. Then, a trained AAHA practice consultant thoroughly evaluates the facility to be sure it complies with AAHA veterinary care standards. These standards include:
Orderly and accurate medical records
Complete diagnostic facilities
Complete pharmacy facilities
Proper anesthetic procedures
Modern surgical facilities
Nursing care
Properly maintained environment
Emergency services
Dental Services
---
As a member of the International Association for Animal Hospice and Palliative Care (IAAHPC), we promote hospice/palliative care for animal companions as an alternative to premature euthanasia and as an alternative to prolonged suffering which can result either from isolating an animal in intensive care or from inadequately treating the animal at home...
Read more: Animal Hospital of Rowlett is a member of the International Association for Animal Hospice and...